Click here to see all Puzzle Magnets
Quantity
100
250
500
1,000
2,500
5,000
3-1/2" x 4"
$116
$188
$260
$350
$625
$1,100
Plus Shipping & Handling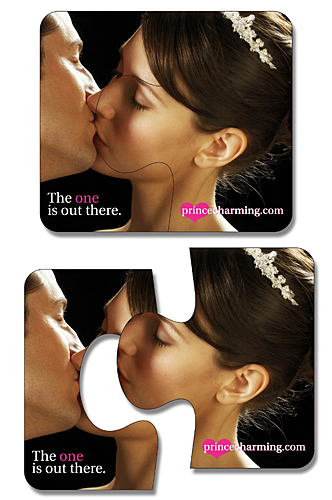 2-Piece Puzzle Shape Magnet
Quantity
250
500
1,000
2,500
5,000
3-1/2" x 2"
$155
$200
$230
$387
$600
Plus Shipping & Handling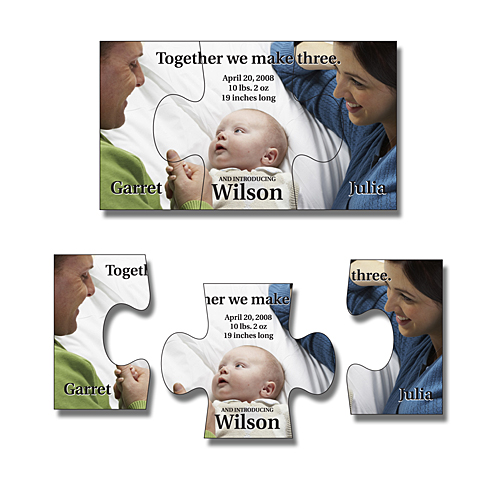 3-Piece Puzzle Shape Magnet
Click here to see all Puzzle Magnets
---
For contemporary Americans refrigerators have become the family honor boards and everyday messengers. Fridge magnets in their turn have become messengers themselves, not mentioning about the promotion function. At MemoryMagnets.com you will find custom magnet printing services including individually designed puzzle shape magnets.

Puzzle shape magnets have become especially popular among couples and engaged ones. The point is that our puzzle shape magnet can be divided into two parts that looks very romantic if the couple is pictured there.

Imagine how your custom puzzle shape magnet designs will be popular among your wedding ceremony guests! You can send such a puzzle shape magnet as a save the date magnet to your family and friends and this will be very remembering! All our custom puzzle shape magnets are individually designed and can be used to decorate the refrigerator in a smart and romantic way.

Save the date puzzle shape magnet is a whimsical and yet unique fridge magnet that will constantly remind your guests about your wedding, because they will most likely see it every day when they go near their home fridge. At MemoryMagnets.com you can order as many custom puzzle shape magnets as you like, so that you can give them to all your family members and guests.

On our website you can order various custom puzzle shape magnets for different occasions - Christmas, New Year, Valentine's Day, Independence Day, Engagement, Wedding and much more.