Call us now at 248-738-7225 to Place an Order.
Quantity
500
1,000
2,500
5,000
10,000
3-1/2" x 4"
$250
$320
$550
$950
$1,800
2" x 4"
$267
$347
$700
$1,135
$2,180
4" x 3-1/2"
$365
$447
$950
$1,600
$3,050
3-1/2" x 6"
$400
$514
$1,117.50
$1,935
$3,580
4" x 7"
$467
$634
$1,335
$2,335
$4,180
5" x 8"
$534
$766
$1,600
$2,920
$5,250
Plus Shipping & Handling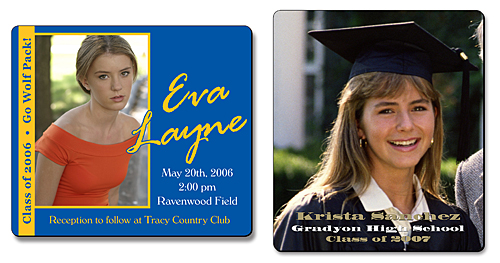 Graduation Announcement Magnet
---
A graduation is the accomplishment that deserves to be commemorated and celebrated. After many years of hard work it is absolutely natural that you would like to share the good news of your graduation with your friends and family. There are so many things to take into consideration when preparing to your graduation ceremony. Probably you should throw a graduation party? One of the most important things then are your graduation announcements and graduation party invitations. If you want to be original and make everyone remember about your graduation, graduation announcement magnets are an ideal choice and MemoryMagnets.com is one of the best places to get graduation announcement magnet products.

Graduation announcement magnets have much more advantages than simple graduation announcement cards or post cards. If you turn on your imagination, you can make a real graduation announcement masterpieces by combining graduation announcement card and magnet with some necessary information and photo involved. With the help of graduation announcement magnet you can do much more than just listing the facts of your achievement. You can also include contact information, graduation ceremony and party invitation and so on.

Whether you need college graduation announcement magnets, or high school graduation announcement magnets, with MemoryMagnets.com you may be rest assured that your former classmates will keep in touch with you after you leave a school. Who will forget about you, if your photo and contacts are hanging on their fridges with the help of graduation announcement magnet solutions from MemoryMagnets.com?

With MemoryMagnets.com you can not only print the place and time of the Graduation on your, say, college graduation announcement magnets, but also place your photos in childhood, teenage and your present photos. This way you can make your graduation announcement magnet really special and very touching.