Click here to see all Business Magnets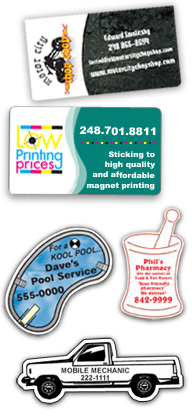 Business Magnets are the perfect item for you to share important company information and promotions! The popular business card magnet is 23 mil thick, round cornered and UV coated for an ultra high gloss look. Business magnets the same size as a business card can help your corporate identity stay consistent while allowing you to be creative.
Learn more about Business Card Magnets.

If you want to display your company information and promotions in a creative way stock shaped magnets are a great way to go. Learn more about Custom Shape Magnets.


---
Many large companies invest thousands of dollars on TV campaigns and large billboards along the highways. If you feel that you no longer can compete with your company competitors, but you can't afford to invest gobs of money to your advertising campaign, we are ready to provide you with the ideal solution - fridge business magnets. Business magnets is a method of marketing yourself that is just as effective for a fraction of large advertising campaign cost. MemoryMagnets.com is ready to provide our clients with top-quality custom magnets for business in the variety of shapes and sizes.

Just think where you look when you want to order pizza, call your plumber or get the number of your local veterinarian. The refrigerator is the first place where you look. And if you are looking for the computer repair or any other service you have not called for months, just one glance to a business magnet is much more effective than looking online or making phone calls.

It's hardly to find anything else than business card in order to keep your company's contact information handy for your clients. MemoryMagnets.com allows you to customize your fridge business magnets to include logos, phone and fax numbers, website and email addresses and your contact name.

For restaurants, for example, business magnets are widely used to promote your take-out or delivery service as well as for taking reservations. Accountants and tax services can make sure clients know where to go for their returns. Auto repair companies, electricians, plumbers and landscapers should always have their contact information readily seen on fridge business magnets. The same goes for professional services such as copy machine sales and service, cleaning and delivery services and what not.