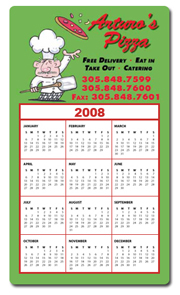 Calendar magnets by MemoryMagnets.com offer a great way to share your promotions and business information with clients. Your clients and potential customers will love keeping these high quality magnets on their fridge and you will love your message being seen 24/7. For maximum effect, you can highlight important dates, such as corporate events and special sales.

Available in almost any size, they can be designed for any time of the year: July-June, September-August or the traditional January-December. For the best results MemoryMagnets.com recommends using the 4" x 7" or 5" x 8" magnets sizes for traditional calendars. The larger size provides more room for your message and allows for a clear display of dates.


---
Our company offers you the comprehensive range of magnets of different sizes, shapes, colors with custom information being imprinted. Our calendar magnets can be designed for any time of the year or in traditional full year mode. It is a common knowledge that custom magnets represent one of the most effective promotional methods. Having our custom calendar magnet right on your client's fridge will help him to remember about your company and your service any time they ever need it.

Calendar magnets are convenient and extremely effective promotion tool. Add your logo, photo and contact information and your custom calendar magnet will be eye-catching and really remembering. Every refrigerator calendar magnet from MemoryMagnets.com will increase your company's popularity and brand name recognition.

If you are looking for the best promotional method to advertise your company, service or products, we're here to meet all your needs. Professionally designed refrigerator calendar magnet with your contact details will be always at your client hands whenever they need your service of products. Add important dates like corporate events and special sales to every custom calendar magnet and be sure that your prospect clients will pay decent attention to these events.

Today in the era of tough business competition, professionally developed advertising campaign is crucial for successful business growth and financial stability. Every custom calendar magnet from our website will supplement other advertising methods of your complex marketing strategy. So don't underestimate calendar magnets because they really work to attract new clients. Present refrigerator calendar magnet to every client and be sure to get respective leads, orders and sales out of them.