Call us now at 248-738-7225 to Place an Order.
Quantity
100
500
1,000
2,500
5,000
10,000
3-1/2" x 4"
$164
$250
$320
$550
$950
$1,800
Plus Shipping & Handling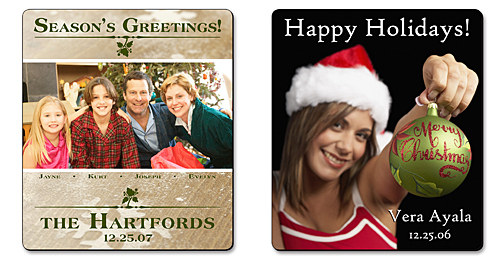 Holiday Announcement Magnet
---
Sending greeting cards has been a favorite tradition of the Old and New World. Indeed, this is a wonderful way to keep in touch with long distance friends and relatives as well as a way to thank business partners and clients for their loyalty throughout the year. Holiday greeting cards can also be used as holiday announcements if they're sent beforehand. MemoryMagnets.com offers you the most interesting and original way to greet and announce about the coming holidays that will dazzle your family and friends with the help of our unique holiday announcement magnets.

All of us are probably aware that Americans are passionately fond of refrigerator magnets. We place them to every metallic surface and especially to refrigerators as a fridge is the place visited by all members of a family at least once a day. Although, the fridge magnets are used mostly for holding the written messages, the colorful and eye catching magnets will always prevail. If you want to make your family and friends remember about the coming holiday, holiday announcement magnet is probably the best way to go.

The more attractive your holiday announcement magnet looks, the better place it will win on a refrigerator door. MemoryMagnets.com is ready to provide our clients with quality and attractive custom holiday announcement magnets in your strict deadlines and for any holiday announcement needs you may have.

Your custom holiday announcement magnet will have a better effect if you include there your photo to make the recipient remember about you and the coming holiday. At MemoryMagnets.com you will find unique holiday announcement magnets such as unique birth announcements, regular photo birthday invitations, save the date magnets, graduation announcement magnets and much more.